Releases
---
Salt Spring: Sun and Shadow
2021, Arbutus Records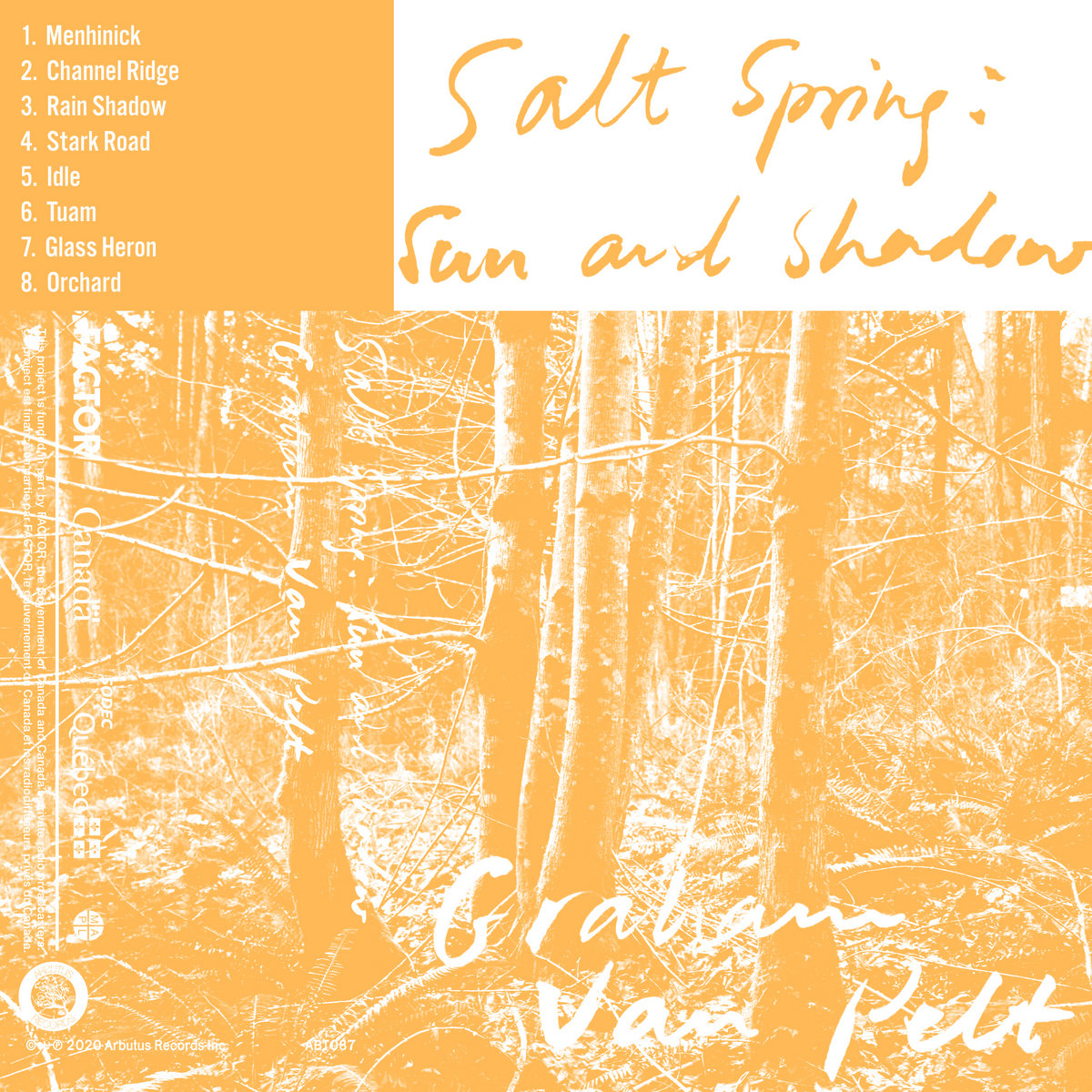 This collection is called "Salt Spring: Sun and Shadow", comprising tracks I recorded on Salt Spring Island, British Columbia, in early 2017. The cover photo is from this time as well.

I had been taking a couple months off, spending time with family, walking by the ocean and through the wooded trails around the island, taking photographs, taking time and enjoying the landscape. I began recording this music early in the mornings, sipping coffee with a view into the forest, before the rest of the people in the house were awake. The pieces were made with simple, asynchronous keyboard and guitar loops, using analog echo effects to devolve and degrade the sounds. I mixed to and from tape at The Pines recording studio in Montreal, messing with tape speeds, plate reverb and various atmospheric effects along the way.

The results are, I hope, a simple quiet accompaniment for time spent reading, unwinding or unplugging by whatever means are desired.

The cassettes are a limited hand-packaged run of riso-printed artwork. Due to pandemic related extended turn times, they ship on June 11th 2021.
---
Sense Appeal EP
2020, No Bad Days / Arbutus Records
London's No Bad Days and Montreal's Arbutus Records join arms and walk over the Atlantic together as one to release Graham Van Pelt's stunning "Sense Appeal". A sophomore release for the Toronto-based singer-songwriter, file this under Larry Heard-redolent deep house with the uncanny tenderness of Arthur Russell's voice floating atop.

On the flip we have three remixes called in from across the Canadian riviera. Yu Su applies her celebrated touch with a punchy club cut, while Gene Tellem goes full '00s with a big room pumper. Von Dutch caps and blue diamante sunnies sadly not included. Closing us out we have twin mix engineers Mark and Matt Thibideau providing a dubbed-out version of the title track, bringing it all full circle.
---
Time Travel
2018, Arbutus Records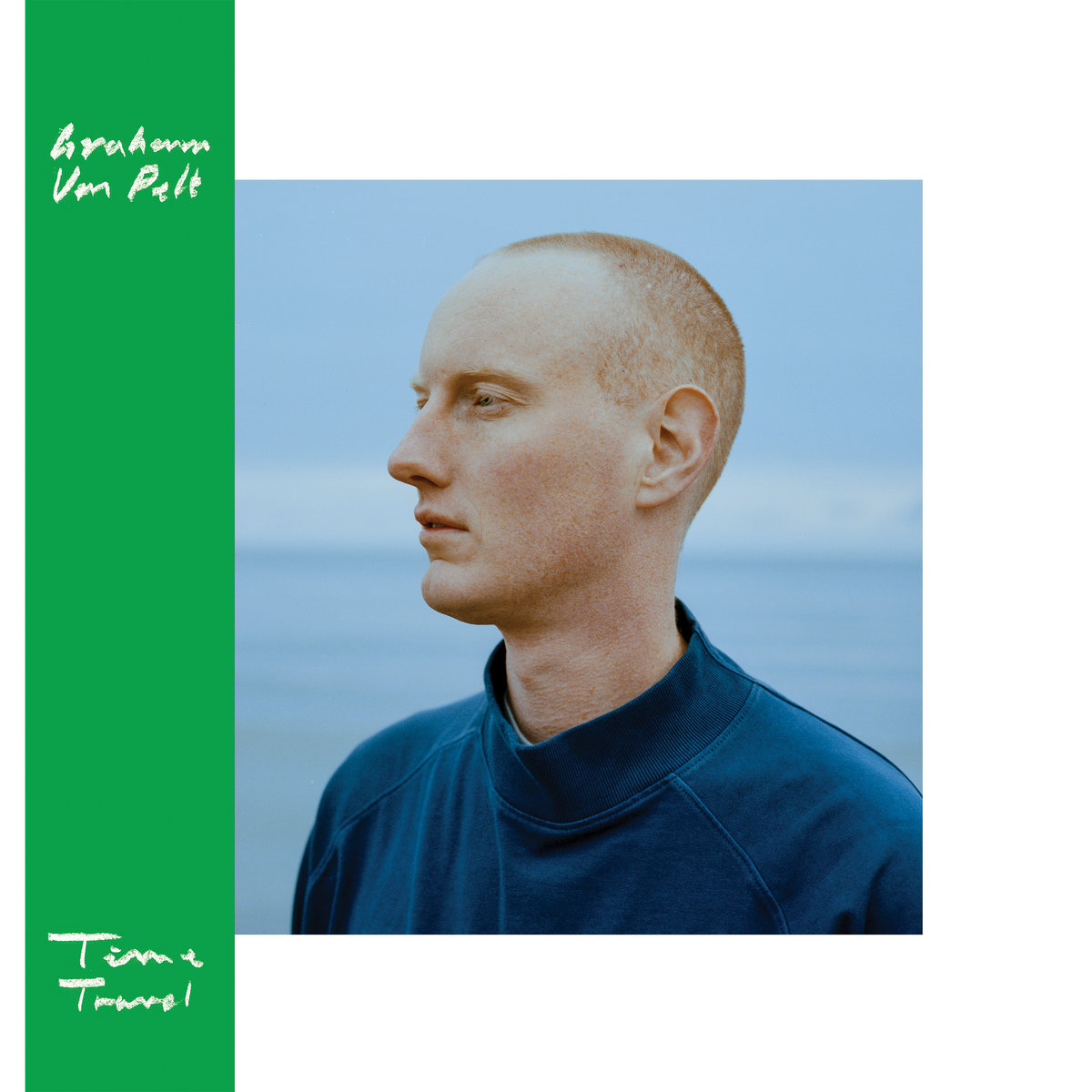 "I'd like to be as un-mysterious as I possibly can," Graham Van Pelt says. He's about to release Time Travel, his first record in the four years since he moved from Montreal to Toronto, and he's no longer Miracle Fortress, or Inside Touch, or any of the aliases he's used to record over the years. He's just Graham Van Pelt.

With the perspective of leaving a longtime home, of watching old friends change and familiar places become unrecognizable, came a recommitment to an emotional honesty in Van Pelt's songwriting. Time Travel's eight songs are a tangle of friendships and feelings. Moving backwards and forwards in time, they occupy a space of elegant melancholy.

Immersing himself in the work of house music legends like Larry Heard, Vincent Floyd and Maurizio and the fragile disco of Arthur Russell, along with contemporaries like Jessy Lanza and Kelly Lee Owens, Van Pelt built the album from the bottom up, rooting every track in the crude sequencer of the Roland SH-101 synth, a decades-old dance music totem. The result are melodies that are simple but affecting, anchored to deep, wandering basslines. Time Travel was engineered by twin brothers Mark and Matt Thibideau, whose techno roots deepened the grooves throughout the record.

There's a comfort to operating in the world of dance music, which is, in Van Pelt's words, more of a "team sport" than the competitive atmosphere of indie rock. "I feel like one person participating in a community," he says, "and less of a person trying to rise above." The album is also Van Pelt's first release on Arbutus, which he describes as his "dream outcome" for the record. "Their catalog intersects at a place that feels like home to me," he says. "Music for late night, atmospheric music, really honest and unvarnished truthful stuff that never compromises."

Time Travel is a renewal of Van Pelt's vows with dance music, and with the genre's pulse of synthesized melancholy. It's a heartrending rush, as emotionally direct as a sweaty, jaw-clenching 3am hug.